Australia's economic recovery is expected to be driven by a 7.3% boost in household spending in 2021 as an embattled population loosens the purse strings and gets back to business as usual.
While the pandemic is still a persistent threat, it is giving way to a return to more normal living conditions, and both job security and employment are improving with better business conditions.
Underlying the recovery is an improving economy, which is being boosted by strong minerals exports, high commodity demand, and good growing conditions resulting in improved agricultural exports. This is despite ongoing difficulties in Australia's relationship with its biggest trade partner, China.
We expect the trade surpluses Australia has achieved for the past three years to continue in the years ahead.
Those positive conditions have been aided by the extraordinary government and financial institution support through the pandemic, which allowed household finances to remain relatively healthy and stave off more difficult circumstances, like mortgage defaults and financial stress from lost employment.
As we entered 2021, about 90% of the jobs lost to COVID-19 had been recovered, and unemployment is expected to further improve this year from 6.5% currently to about 6% by year end.
COVID-19 risks remain
These positives aside, it is important to remember everything will not snap back to normal:
Wage growth remains low, and we expect that to continue as businesses seek to recoup losses made during the pandemic and protect balance sheets against any further disruptions.
Unemployment was about 5% before we went into lockdowns, it is not expected to return to this level in the next few years.
Inflation to stimulate economic growth remains absent. We are relying on government and Reserve Bank of Australia (RBA) policies to create reflation – which is the measured release of inflation back into the economy through policy.
Businesses that relied on pandemic-induced support may not survive as conditions normalise and support is withdrawn.
Because of these impacts, we do not expect the RBA to change its loose monetary policy stance. We forecast the RBA to keep the cash rate target unchanged for the next two years, and note the RBA's February guidance that it will not raise the cash rate until inflation is persistently within its target level of between 2-3%. The RBA does not expect this condition to be met until at least 2024.
That said, the impact of the pandemic on Australia was not as great as in most other regions, like Europe and the Americas. It may create an effect where Australia's growth appears to be lagging other parts of the world as they recover from the pandemic, but that is only because we are not starting from such a low base. As a result, growth is not expected to be as strong when vaccines are made available compared to other countries severely impacted by the virus.
Our forecasts can of course require adjusting if new variations of the COVID threat create new emergency conditions, but at this point we expect it would blunt growth forecasts, not derail the recovery. No doubt the inverse is true if COVID is effectively mitigated further, as a result of the imminent rollout of vaccines.
GDP set to return to pre-COVID levels in Q2 2021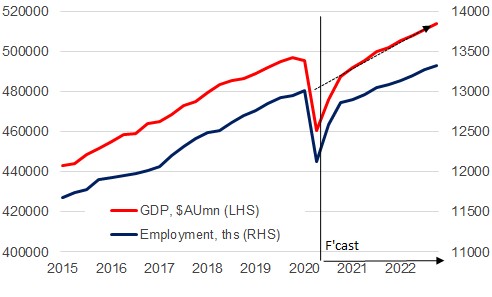 Source: ABS and Citi Research
Top five recovery factors to watch
Vaccines and the path to immunity
Our economics team anticipates that Australia will achieve herd immunity by the end of this year. Mid-February saw Australia secure 142,000 doses of Pfizer/BioNTech vaccine, with the Federal Government managing a phased rollout through the general population, starting with priority groups liked aged and disability care and frontline health workers.  From late March, and subject to regulatory approval, CSL will begin delivering 1 million doses a week.
We expect the rebound in growth that commenced in the second half of 2020 to continue, but there is a high degree of uncertainty regarding when the Federal Government is willing to reopen international borders. Our best estimates are for the international borders to remain closed in 2021 with a reopening more likely in 2022.
Exports and the China factor
If international borders open in 2022, this will coincide with the broader rollout of vaccines in many developed economies. One area of specific concern when it comes to exports is education. Plans to bring back international students in 2021 remain uncertain and our education exports – which totalled $40 billion in 2019 – will continue to negatively impact net export data. However, overall exports are expected to rebound this year, driven by China's strong appetite for iron ore to feed its heightened capital expenditure programs.
We believe that Australia and China trade relations are unlikely to derail growth. More recently, there has been a conciliatory tone between diplomats, which suggests that trade relations are unlikely to deteriorate further and could see some improvements in 2021.
Thus, improved relations with China could be a source of upside sentiment.
Housing
We refrained from calling a crash in the housing market at the start of the pandemic last year, owing to various demand support measures introduced by the government, along with highly accommodative monetary policy and loan deferrals for stressed mortgages. We had pencilled only a modest decline in prices in 2020, but housing demand trumped our expectations and growth moderated to 2% through the year in December 2020. Since house prices have troughed, further improvements are likely in 2021. We have further upgraded our outlook and now look for house prices to finish +7.2% higher by year-end (upgraded from +2.8% previously).
Currency
Currency investors were preparing for the RBA to step back from its commitment to keeping interest rates on hold until 2024, in light of a 90% recovery of the jobs lost in the Australian labour market and quicker return to growth, helped by China's quick path to recovery and higher economic growth. This has resulted in the Australian dollar appreciating by over 25% since the depths of the pandemic.
Enter the US
The US is also in position for a strong spring back. Given how hard its economy and population were hit by the pandemic, the progression of a relatively smooth inoculation program could see the US economy perform strongly in the second half of the year.
Since it is starting from a lower base, we expect a steeper curve in the US growth path compared to Australia as its government and Federal Reserve continue to ramp up further stimulus measures and inoculation shifts towards herd immunity.
A positive outlook
Citi is positive on the outlook for the S&P/ASX200, based on our top-down earnings per share (EPS) outlook and a market multiple of 19.5x. We expect the index to reach 7,000 by end-2021 (at end of February 2021, it was about 6,700). Australia's healthcare is well under control in comparison to other developed markets. Resource and bank stocks outperformed in the last quarter of 2020, and we think the positive view for these stocks can extend further.
The opportunity is present for investors to diversify into US denominated assets on AUD rallies. We remain neutral on preference for US or Australian equities as both markets are positioned for growth. However, US banks may outperform given the stimulus agenda under discussion in the US and the Biden administration's prioritisation of recovery and growth.
Simson Sanaphay, Chief Investment Strategist, Citi Australia ©Firstlinks